Access to education is necessary for understanding one's own being, own's environment, one's faith, and one's life.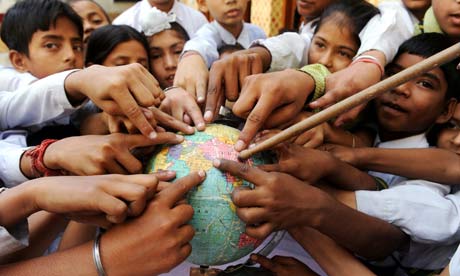 Education and information issued by government agencies is intended to create a responsible citizenship. Education helps close the gap between what people know or are able to know on their own and what they need to know to make well-informed voluntary decisions, especially how to vote, consume and produce goods and services. Education has the following goals: ensure information quality and reliability; correct erroneous perceptions; and expand audiences for education. Government education has been crucial in projects such as toxic releases, harmful drug consequences, large infrastructure projects financed by taxes (highways, dams, levees), water and air pollution standards, environmental justice, and security decisions. Government education must be monitored by private, nongovernmental groups as it can be biased. Information is just one ingredient in contested arenas of sustainability and may not carry sufficient political power to cause social change.
Public education on projects funded by taxpayers have specific requirements: requiring public notification, determining what information must be made available by whom, when, and how; removing constraints to accessing information, and required answers by the lead agency to all reasonable questions. The ideal government intention for education is to empower, not coerce.
---
Creating or enhancing access to education enables both children and adults to overcome physical, financial, and cultural barriers that prevent them from being educated or receiving an education. The right to education is considered a human right and facilitating access to education enables the fulfillment of that right. 
Education encompasses the actions of educating, teaching, training, and imparting knowledge; as well as the impartation of ideas and skills upon students. Given the extensive social and private benefits that result from tertiary education, inclusive access and success are essential for achieving social justice and ensuring the realization of the full potential of all young people. While acknowledging the impact of disparities in primary and secondary education, there is no doubt that improvements in equity at the tertiary level can offer meaningful and sustainable development potential.

Thus, in the interest of social justice, every individual must be given an equal chance to partake in tertiary education and its benefits irrespective of income and other individual characteristics including gender, ethnicity, and language. Considering the strong correlation between tertiary education enrollment and family background (McPherson and Schapiro, 2006), concrete initiatives are necessary to provide better opportunities of access and success for students from lower income families and minority groups. Without such purposeful action, the cycle of inequity can only continue.
Everence, a financial management group in Goshen, values education and its benefits. Everence has invested millions of dollars in Christian education, more specifically Mennonite colleges. These investments earn returns through the individuals that come out of the institutions and change the world for the better, not necessarily through monetary gains. However, the return is just as significant, and just as important.
---
RESOURCES:
worldbank.org
Wiser.org